Best Travel CPAP for Vacation
There are different models, systems, features and settings of CPAP machines. For travel lovers who suffer from sleep apnea, finding the best travel CPAP machine is essential.
If you have been diagnosed with obstructive sleep apnea (OSA), you may be using a continuous positive airway pressure (CPAP) machine to help you sleep well.
You are used to your CPAP treatment and the configuration of your machine is optimal. Every night, the only thing you have to do is lie in bed and enjoy your CPAP therapy. However, travel can be disruptive to your sleep patterns. You may be used to your standard CPAP machine, but purchasing a device designed for travel can help make your next trip feel easier and more relaxing.
3 Reasons to Get a Travel CPAP
Lightweight
A travel CPAP machine can be carried anywhere you go because it is small, compact and lightweight.

Different Power Options
Depending on the type of travel, you may need a battery or different power source to keep your CPAP going. Travel CPAPs are designed to be more flexible with power requirements so that you can continue your treatment from anywhere.
Design and Features
Although these travel CPAP machines are small and more compact, they should be able to perform at the same level of effectiveness as your standard CPAP. They also come with high-quality airflow generators, humidifiers, connection hoses, filters and masks.
Review our best travel CPAP machines for 2021
Some sleep apnea patients consider going abroad without their CPAP machine. This option should not be considered; the consequences on your health could be dramatic if you don't follow with your sleep apnea treatment. A travel CPAP machine is the better option. For this reason, we listed the best travel CPAP machines for 2021.
Travel CPAP machines are designed to be compact, smaller and lighter than standard CPAP machines. Still, a travel CPAP machine isn't just a smaller version of the standard model, but usually has additional features to ease travel. Considering their simplicity and ability to improve sleep quality while away from home, travel CPAPs can be a great addition to your next trip.
#1 Travel CPAP: Philips DreamStation Go
The DreamStation Go is incredibly light at only 1.86 pounds. Its weight is not the only asset offered by this great travel CPAP machine. The DreamStation Go also features a touch screen and a sleek interface. It has an advanced sleep data tracking system where you can easily record sleep information on the device for up to a year. The LCD display screen provides user-friendly information.
Bonus: it has an optional battery that can be purchased separately. Its rechargeable battery can supply the device with non-stop power for at least 13 hours.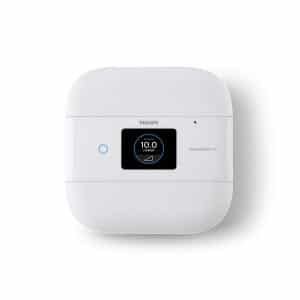 The DreamStation Go is also known for its Flex Control technology, which allows users to enjoy its excellent pressure distribution system, while simultaneously tracking your breathing rate. This device also comes with a tube that can be stored in your bag without any difficulty. 
It's an innovative device to take with you wherever you go, and its mobility is one of its many advantages. Philips created the DreamStation Go to meet the needs of patients on the go. It's half the size of standard CPAPs of its generation, and offers outstanding comfort and performance.
DreamStation Go Travel CPAP: Innovative Technology
The DreamStation Go is a step ahead in its advanced technology. The device features Opti-Start technology, which monitors the patient's pressure requirements with accuracy.  The device automatically calculates the ideal pressure, allowing for comfortable and effective sleep therapy.
Recording your nightly sleep data is fast and easy. Its interface supports most smart devices on the market. With the Philips Respironics DreamStation Go, monitoring and viewing your progress is simple and immediate.
Bonus: Its built-in sensor adjusts the screen brightness automatically.
DreamStation Go Travel CPAP: Sleep Therapy On the Go
This device combines mobility and technology, making it the perfect travel accessory for people who want to enjoy their sleep therapy anywhere in the world. It has all the technical features to provide you with effective therapy, without taking up too much space in your luggage.
The Phillips Respironics DreamStation Go travel CPAP offers travellers a compact option. It comes with a reusable filter, microflex tubing and a power cable. The DreamStation Go is designed to be intuitive and has a sleek touch screen. Plus, setup and navigation are quick and easy. Its built-in monitoring system makes it easy to track sleep therapy. 
Its Bluetooth features allow you to connect to the DreamMapper app on your smart device to track your sleep cycle data. The DreamStation Go travel CPAP device has a built-in rechargeable battery and an optional heated humidifier.
Bonus: The device also comes with a two-year manufacturer's warranty.
#2 Travel CPAP: ResMed AirMini
The ResMed AirMini features ActiveAir technology that effectively limits therapy flow while steadily increasing treatment pressure. It also features EPR (Expiratory Pressure Relief) technology, which ensures comfort by reducing pressure during exhalation while keeping pressure as low as possible during inspiration. HumidX™ technology makes this device one of the best waterless humidifiers on the market, providing effective and comfortable humidification.
The ResMed AirMini is a small and compact travel CPAP that can easily fit in the hand luggage.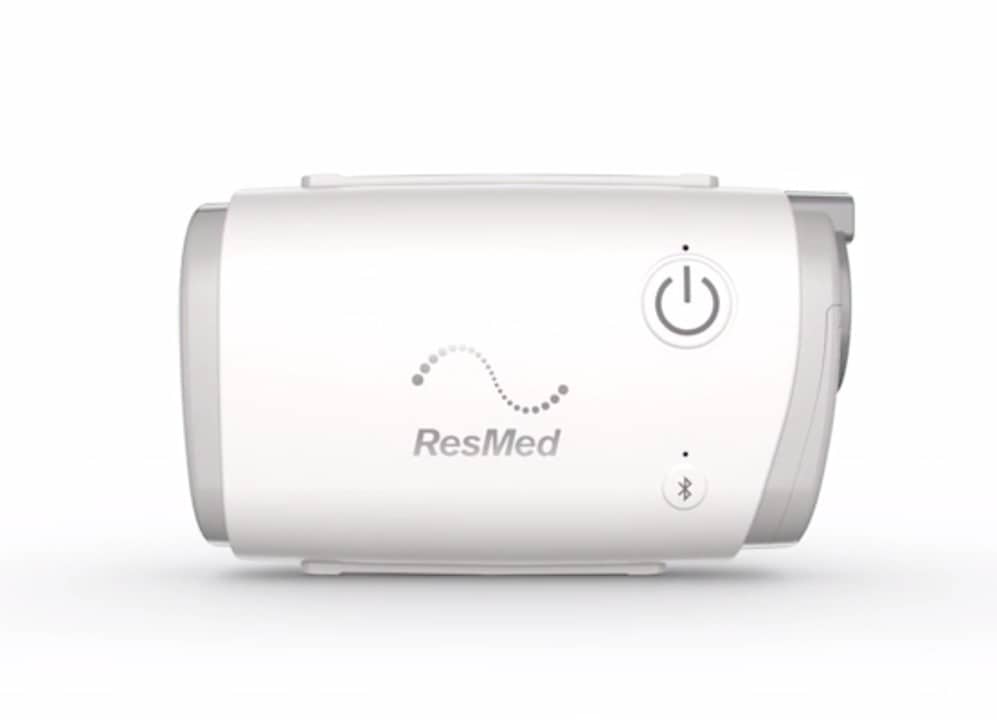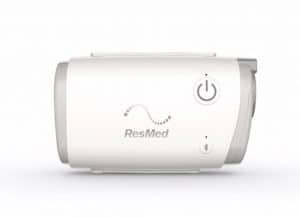 The AirMini has an intuitive navigation interface and a bright LCD screen. It is one of the smallest CPAP devices in the world, making it an ideal travel partner for sleep apnea patients.
The AirMini is also known for its ResMed technologies, which feature superior waterless humidification to ensure safe and effective therapy results. This travel CPAP is a high performance device. It features convenient CPAP technology and is known for the great comfort it offers to the users. 
This device is well-known for its SmartStart, AutoRamp, Expiratory Pressure Relief (EPR) features and the AirMini app. Using the app, you can easily adjust the comfort settings from your smart device according to your needs. Finally, the AirMini comes with a three-year warranty.
Bonus: It weighs only 0.66 pounds. The device can easily fit in your bag. You can take it with you wherever you go and you can always expect outstanding sleep therapy anytime, anywhere.
AirMini Travel CPAP: Advanced Technology

 
The ResMed AirMini features AutoRamp technology. With an automatic start, the ResMed AirMini gently adjusts the patient's pressure level before reaching the therapeutic pressure level. This option improves sleep therapy by providing additional comfort. 
The ResMed AirMini is also known for its HumidX™ and HumidX™ Plus. The AirMini's HumidX™ system offers the same humidification benefits as standard CPAP machines. Plus, it allows you to get all the benefits of sleep therapy without carrying distilled water. 
Easy Control
The ResMed AirMini app now lets you control your AirMini device with your smartphone. The app allows you to access multiple parameters and track your sleep data for up to 30 days. Bonus: the AirMini app can also detect mask air leaks, so you can stay on track with your CPAP therapy level at all times.
Small and Quiet
Weighing only 0.66 pounds and connected with a small power cord, the ResMed AirMini is a compact device that should fit into your travel bag without any difficulty. ActiveAir technology, allows for a quiet travel CPAP with a noise level of only 25-27 decibels.
Travelling With Your CPAP: Final Words
For travellers who suffer from sleep apnea, you can stil sleep well with a travel CPAP device. Find the right travel CPAP machine, and get a good night's sleep without ruining your vacation. If you suffer from sleep apnea, your CPAP therapy is vital to your health, you need to be sure you are using the right machine at all times to maintain your health. 
Choosing a CPAP machine is not to be taken lightly. At Dorma Sleep Clinic, we help our patients find the right device for their needs. There are many factors to consider when purchasing a CPAP machine. Our team of sleep specialists is here to guide you. Ask us for advice, we will be happy to help you. Whether you're going on a business vacation or to see your family, the best travel CPAP machines can help you avoid long-term health risks.