How to Use Your CPAP Device

What you need to know about CPAP device: CPAP machines are designed to provide positive airway pressure therapy for patients suffering from sleep apnea. Continuous positive airway pressure (CPAP) devices distribute air into the patient's airway, preventing the throat from collapsing. 
Please note that CPAP machines can only be prescribed by a doctor, therefore you cannot buy a CPAP device without a prescription. Once your sleep specialist has prescribed your treatment, the pressure settings and the device parameters will be configured to suit your needs.
Nowadays, there are a multitude of accessories available to make your CPAP therapy comfortable. For safe CPAP therapy, please follow the guidelines provided by your sleep specialist and do not hesitate to contact our medical team for any questions regarding the use of your CPAP machine. 
Types of CPAP Devices
Various types of CPAP machines are available: standard models for use at home or compact models (travel CPAPs) designed for use while you're away. CPAP machines are simple and easy to use. They consist of three main parts: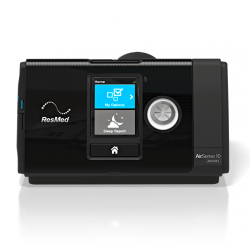 The CPAP Machine
The CPAP machine is an air compressor that draws in ambient air, pressurizes it and distributes the required air flow to keep the patient's airways open. A filter is usually located at the air inlet of the machine to filter out particles. The CPAP filter should be replaced every 6 months.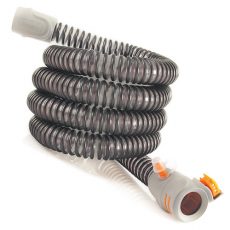 Tubing
The hose, or tubing, carries pressurized air from the CPAP machine to the mask worn by the sleep apnea patient. The length and diameter of the tubing varies according to the CPAP machine in use.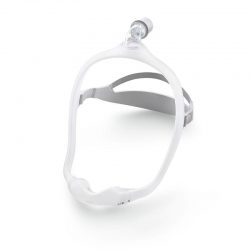 The CPAP Mask
CPAP masks come in many shapes and sizes designed to fit all faces, and to provide optimal comfort for the user. There are different styles of masks, including: the nasal mask, the full CPAP mask and the nasal pillow mask. Choosing the right mask is essential to ensure your CPAP therapy is effective.
Setting Up Your CPAP Machine
Place your CPAP machine on a flat, stable surface. The CPAP machine should be placed close to your bed so that you can easily reach the device while you're laying down. It is best to place it on your bedside table, making sure that your device is away from any heat source or cooling equipment (radiator, air conditioner, etc.). 
Important: For your CPAP device to perform well, air must be able to circulate freely around the device. Please ensure that your device is not obstructed by any object. Also make sure that the CPAP device's power cord is easily accessible so that you can unplug the device.
Powering the CPAP Machine

 
To use your device, you will need to connect your CPAP machine's power cord. Once connected to your machine, plug the cord into the wall socket. Check the connections on your device to ensure safe and reliable use of your CPAP machine. Remember to check the power cord regularly. If your cord shows any signs of wear or damage, disconnect the cord and replace it. This will maintain the performance of your CPAP machine. 
Connecting the Tubing
To begin your CPAP therapy, connect your device to the tubing. Get your CPAP mask, tubing and headgear. Connect the tubing to the air outlet of your machine. Then connect the tubing to the CPAP mask.  Refer to the instructions provided with your CPAP mask for proper connection.  
Note: Do not pull the tubing as this may cause air leaks. If the tubing is damaged, replace it immediately. 
User Interface

 
The navigation screen of your device allows you to adjust the settings of your machine and view treatment information. As the user interface differs from one CPAP machine to another, we recommend you follow the device's user instructions to make the best use of your CPAP machine. 
After you set up your CPAP machine, check your mask for signs of air leakage. Adjust your mask and headgear as needed to stop any leak. 
You are now ready to begin your CPAP therapy. Remember, for your therapy to be effective, you must use your CPAP regularly. To help relieve your sleep apnea, you should use your CPAP every night. If you stop your therapy, your symptoms may reoccur quickly, resulting in serious health consequences.
Note: The above information is provided as a reference only. The settings of your CPAP device may differ from one brand to another, please refer to the user instructions of your device and contact your medical team for any question related to the setting up and use of your CPAP device.